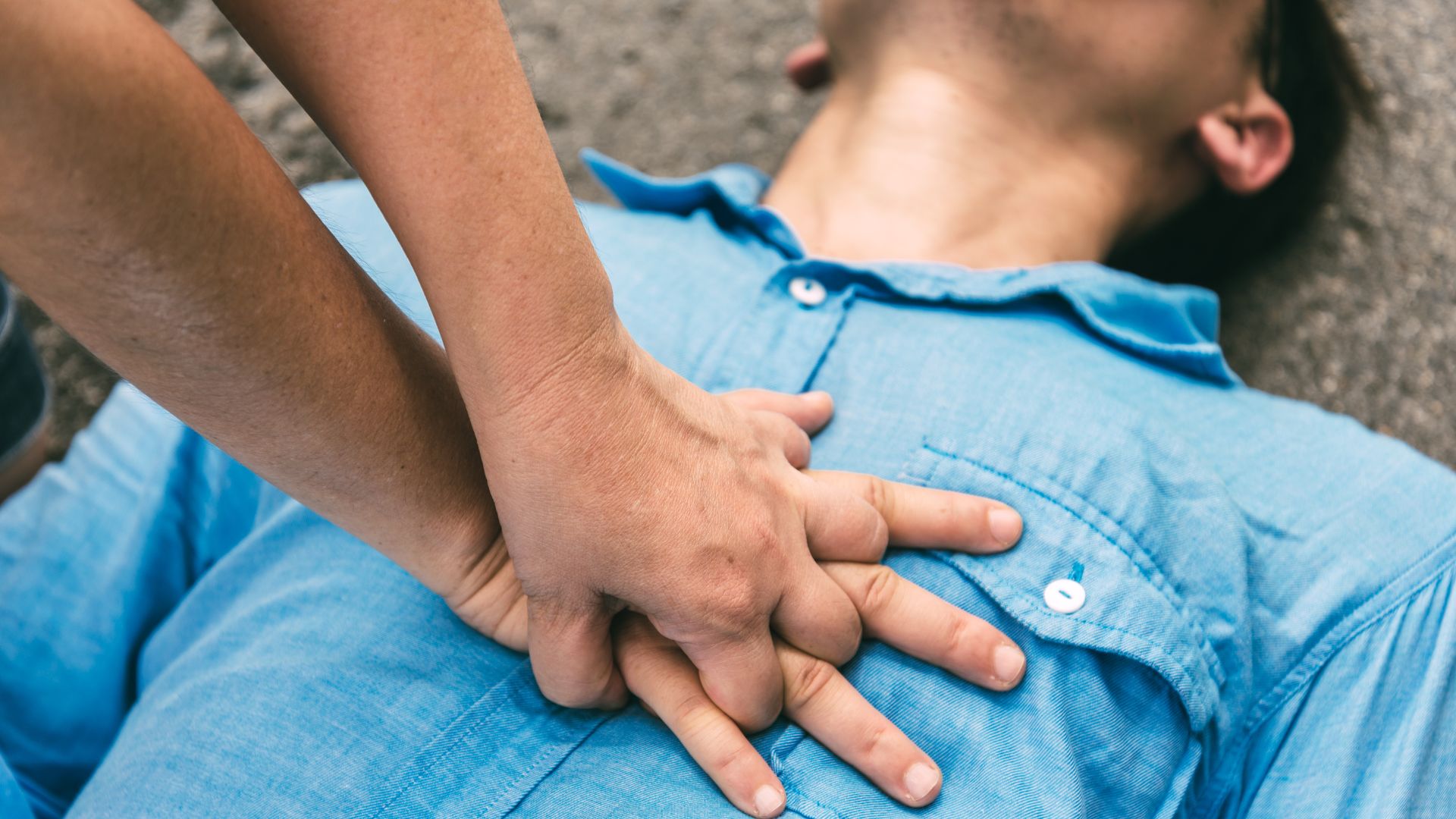 When a person suffers a sudden cardiac arrest in a public place or around CPR-inexperienced bystanders, the chances of an unwanted outcome increase—whether due to unwillingness to provide CPR or inadequate response.
Because of that, organizations such as the American Red Cross, the National Safety Council, and the American Heart Association devised a simple technique that everyone can do. This technique is called hands-only CPR!
It's simpler but as efficient and effective as high-quality CPR and the full CPR cycle! Following is our take on the simplified CPR technique, which you can utilize in almost any situation and cardiovascular emergency, such as sudden cardiac arrest.
Hands-Only CPR: The Logic Behind The New Method
Numerous factors can influence the willingness or unwillingness to provide CPR to cardiac arrest victims. One of the most common, aside from inexperience and stress, is the risk of transmittable viruses and bacteria when performing artificial breaths.
According to various studies, most of the bystanders identify "personal factors" as an excuse not to provide CPR to cardiac arrest, drowning, anaphylaxis, drug overdose, or similar victims. Nonetheless, a good number of bystanders also stress their inexperience and lack of CPR skills when they find themselves near an out-of-hospital cardiac arrest victim.
That's why reliable and scientific organizations like the American Red Cross and the American Heart Association have systemized specific CPR for bystanders methodologies. This way, they can raise awareness, simplify the technique, and make it highly approachable to all.
One such method is hands-only CPR. This can be equally effective and efficient as high-quality CPR if you perform it in the first few minutes after the sudden cardiac arrest.
Hands-Only CPR: The Steps and The Procedure
The standard CPR procedure consists of 30 chest compressions and two artificial breaths in a single cycle. Although the hands-only CPR effectiveness is equal to that of the standard CPR procedure, it's a fact that this one is simpler—mainly because it consists of chest compressions only!
It means that if you're performing hands-only CPR, you won't have to provide the sudden cardiac arrest victim with artificial breaths. All you need are chest compressions of 2 inches in depth. The following are the specific steps of hands-only CPR based on the American Red Cross hands-only CPR guidelines:
Make sure that the scene is safe and that the CPR procedure is necessary.
If you evaluate the emergency as CPR-necessary, first call the emergency responders and then proceed with the technique.
Begin with chest compressions of 2 inches in depth.
Make sure you provide the chest compressions properly—place the heel of your palm on the chest and the other palm above while interlacing your fingers.
Start with the chest compressions immediately—pump fast, strong, and without interruptions.
Allow the victim's chest to return to its normal position after every chest compression.
The hands-only CPR technique is also called hands-only resuscitation because you perform only the chest compressions. And as we mentioned, hands-only CPR can be equally effective as the standard CPR procedure combined with Automated External Defibrillation.
The Benefits of Hands-Only CPR
It's obvious to everyone that CPR has many benefits. Considering that hands-only CPR is a simpler version of it; naturally, the same advantages apply. Of course, the main one is the timely and effective saving of a person's life. Additional key benefits of the implementation of hands-only CPR include the following:
Gain more confidence – CPR without rescue breathing can build the confidence of people so that when they find themselves nearby a sudden cardiac arrest victim, they can provide immediate help.
Avoid risks of transmittable diseases – When you avoid performing the resuscitation breaths, you'll also avoid the risk of transmitting the virus and bacterial contaminants through the mouth.
Efficiency and effectiveness – As we mentioned, hands-only CPR effectiveness equals that of the standard CPR procedure, which is especially good for untrained and unskilled bystanders. One of the main hands-only CPR benefits is the delivery of more frequent and more powerful chest compressions. Plus, if you combine it with an AED, you can increase the effectiveness.
Reduce the time for initiating the CPR procedure – The simplicity of hands-only CPR significantly reduces the time for the initiation of the procedure and efficiently restores the proper blood and oxygen flow within the victim's body.
When to Avoid Hands-Only CPR
Even though there are numerous hands-only CPR benefits, there are also multiple downsides of CPR without rescue breathing. The following are some of the emergencies when you should provide a full CPR cycle and avoid the hands-only type:
When the victim is an infant or a child – In these situations, healthcare experts suggest that you always perform the standard CPR procedure to limit brain damage and other cognitive impairments.
When you find yourself nearby a drowning victim – In these cases, it's also preferable that you perform standard CPR rather than hands-only CPR.
When you find yourself nearby a burn victim – Because the person might lose conciseness and suffer a sudden cardiac arrest as a result of shock from the trauma, accompanied by severe arrhythmias, in these cases, it's preferable that you perform standard CPR.
When you find yourself near a victim with anaphylaxis or other severe allergic reactions – In these situations, the throat and the chest of the victim may be swollen, and it may become necessary to provide resuscitation breaths. Hence using hands-only CPR is not advisable.
When you find yourself nearby an injured person – Victims of accidents and severe injuries may experience a sudden cardiac arrest due to trauma and lose consciousness. In these emergencies, hands-only CPR is not enough!
When to Perform Hands-Only CPR
Now that you know when to avoid this type of CPR, here are some emergencies when you can only give hands-only CPR:
When you see a teenager or an adult suddenly collapse;
When you don't feel comfortable giving the standard CPR technique;
When there's some external factor that stops you from performing the standard CPR technique like a pandemic, virus, health conditions of the victim or yourself, etc.;
When it's not a cardiac arrest.
Hands-Only CPR Training, Certification & Recertification
If you want to learn all the specifics about this type of simplified CPR, you should apply for a CPR certificate at one of the American Red Cross- and AHA-licensed training centers. There, you'll get acquainted with everything about the hands-only CPR procedure, including the different emergencies when you should avoid it or perform it on a sudden cardiac arrest victim.
The hands-only CPR training program is usually based on the American Heart Association's guidelines for the technique's steps. But there are training centers that go by the American Red Cross' hands-only CPR guidelines. In essence, there is no difference—this technique is universal, so regardless of which one you learn by, you will surely gain valuable knowledge.
You can apply for the certificate and purchase your materials online. Moreover, you can choose some of the three available training methods: onsite, blended, or online learning. Of course, at the end of the certification process, you'll have to demonstrate your hands-only CPR skills before an AHA-certified instructor.
Note that these certificates are time-limited, meaning you'll have to renew your CPR certificate every two years. This is because of the constant improvements and scientifical findings in the field of CPR. The recertification process is not only simple, but you'll refresh your hands-only CPR knowledge and get acquainted with some brand-new rules and CPR techniques.
Final Remarks
The hands-only CPR is a simplified CPR technique approachable by both experienced and inexperienced bystanders. The American Heart Association and the American Red Cross have devised and implemented this technique to raise CPR awareness and increase the willingness of bystanders to provide the procedure.
Even though the hands-only CPR technique consists only of chest compressions, it doesn't mean that it can't be as effective and efficient as the regular one. In fact, a study concluded that more people are willing to give HOCPR, which inadvertently increases the chances of bystander-provided CPR.
That being said, taking a specified CPR training course is never a bad idea. While hands-only CPR can help, there may be some situations that require mouth-to-mouth resuscitation.